Some links may be affiliate links. I may get paid if you buy something or take an action after clicking one of these (at no cost to you).
Ahh, the rules of grammar.
I before E, except after C (or when sounding like "ay" as in neighbor or weigh)
A semicolon joins two independent clauses; a colon introduces a series of elements: magnesium, phosphorous, calcium.
Commas separate clauses joined by coordinating conjunctions, but you already knew that.
We had these rules of the road, so to speak, drilled into our heads as children. But with the rise of technology, it seems knowledge of spelling, punctuation, and grammar has become less critical. We often communicate using slang, emojis, or partial sentences. In this day and age, we favor speed over readability. If the point is getting across, people are less apt to correct errors in their writing.
As a non-English major now writing for a living, I knew that to be successful, I needed all of my communication to come off as polished. I was incredibly excited to have stumbled across Grammarly*, a writing tool that helps you correct simple errors in seconds. Grammarly is by far one of the easiest tools I've ever worked with and increases my confidence that the information I'm putting out is well-written and free from basic errors (which, let's face it, tend to undermine your authority as a writer).
What is Grammarly?
Grammarly is a writing tool that enhances your writing by checking for errors in grammar, punctuation, and spelling. But it does so much more than that. It allows you to set your desired tone and will help you make your writing sound more formal, informal, friendly, or confident. It also allows you to define your audience to write for a general or expert domain.
Is Grammarly really worth it?
Hands down, the answer is a resounding yes. I started using the free version of Grammarly in the early Spring of 2020 when I realized I needed a tool to help me write reviews for online book club.  After using the free version, which only assists with the "correctness" of spelling, grammar, and punctuation, I knew that if I were going to continue writing, I'd need to upgrade.  I switched to the premium service in May 2020, and it was a total gamechanger.
Grammarly has been one of the best, if not the best, purchase I have made to enhance my freelance career. I spend my days writing original content and reviewing content created by others. Grammarly gives me the confidence I need to know that what I'm putting out in the world is not only grammatically correct but clear and engaging.
The things I like best about Grammarly
This versatile tool has a lot of positive elements that make it a freelancer's dream come true.
Flexibility to use on any site – I use this service to proofread my emails, word documents, client messages in Fiverr* and Upwork, you name it. The Chrome browser extension enables me to use it on any webpage.
I'm becoming a better writer – The number of errors I see on Grammarly week over week has gone down significantly. While I rely on the tool, I'm also becoming a better writer by way of seeing the changes Grammarly makes and beginning to do them first.
Plagiarism checker – When writing for clients, I must be able to evaluate my work for plagiarism before submission. While I am aware that the words come from my brain onto paper, when you're writing about specific topics that have been written about many times before, it's nice to be able to double-check to confirm that others haven't arranged words in the same order. Some clients could incorrectly perceive this as plagiarism.
Weekly writing update – Grammarly sends out a weekly email to let you know how you compare with peers but also how much you're proofreading in any given week.  I know that if I'm doing ~100,000 words, I'm on track.  The emails are a fun way to recognize how your tone is changing over time, and if you need to consider throwing in more unique words.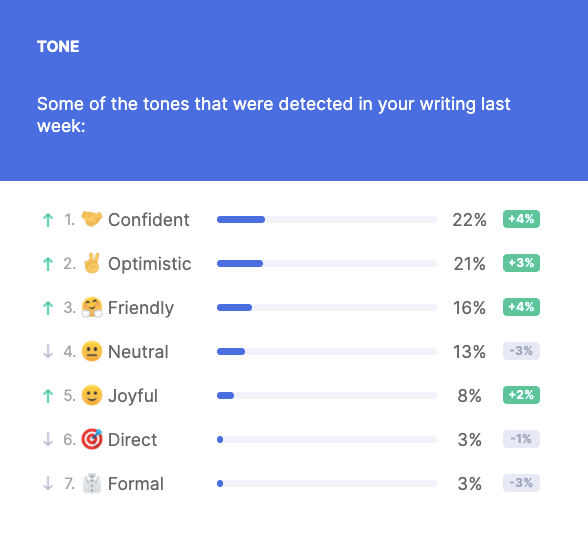 Can Grammarly replace humans?
As a proofreader who uses Grammarly, I have to say that I still catch a lot of things Grammarly doesn't, especially when the writing originates with a non-native English speaker. While something might be correct structurally and grammatically, that doesn't always mean it reads well. There are just some things that feel out of place or incorrect when you read the sentence with an inherent understanding of the language. At least for now I think the role of human proofreader will live to see another day.
With the free version available to check spelling at no cost, there's no reason not to sign up for a Grammarly account. It will help you feel more confident that your writing online is perceived as professional and knowledgable.
Have you used Grammarly to improve your writing? Do you have another tool that you like that's comparable? Tell me about it in the comments!